Horror Stories' genre is something that frightens us, chills our spine but at the same time, excites us with an adrenaline rush going on. In real life, it is almost unbelievable for anyone to experience the presence of a parallel world. Do spirits exist? Are they all bad? Is there any concept of "Good" spirits? So many questions are unanswered, but some believe and have experienced the paranormal activities in their life. It can be turned out as a debate but the suspense behind the existence always excitingly frightens us. 
Before, you scroll down to the blog to read further, go through this YouTube link and find out the personal accounts of Scary, petrifying stories.
Audio Stories are the personal accounts of the people who have either encountered such a paranormal experience or know people who have gone through such an experience. Though, not all the stories are based on the real-life story, but they are presented in such a way that they make you believe in their authenticity. Nevertheless, horror stories are a must listen as they provide you with an experience beyond the reality.
Though the Stories of Horror can be in Hindi, English, Telugu, Tamil and Marathi on our platform but here, we present the top 5 real and the best horror stories and podcasts in Hindi:
It is a horror story audio that brings out the blood-curdling horror story. In this- Bhangarh Ki Wo Scary Raat, the narrator- Rohit sheds light upon the history that Bhangarh Fort in Rajasthan has. It is believed that this fort is haunted for generations. What has happened with the narrator in that night? Did he witness something paranormal or was it his hallucination? To find out the suspense, give this horror story a check!
This horror audio story podcast has five seasons, and in each season, the listeners can listen to a new story uncovering the suspense behind this house. The writer of this horror story- Rajender Kumar Guru has a lot to offer to his listeners. Haunted House is a perfect match for those people who are fond of Conjuring movie series.
In our collection, we have something for the kids as well! Strange! No! We believe in catering to all, and for that matter, we have their favourite cartoon character- Doraemon!
Nobita with his male robotic cat  friend- Doraemon, ventures into the world of horror and fights out the obstacles that come in their way. They solve mysteries together and conquer their fears. It will be a great option for those kids who believe in adventure should go for it! In the collection of Horror Stories of Doraemon, you can listen to Stree, Purana Khajana, Bhoot Ki Train and many More!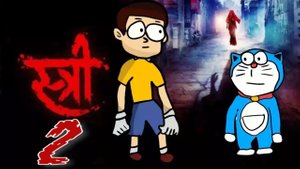 Are you ready for the horror time? If yes, then Horror Time is one such show having a series of horror stories, namely- Room number 404, 50 Lakhs for a pill, She is dead or alive?, I am not alone here, Red Umbrella, Creepy Roadside Restaurant, Ouija Board Story and many such horror stories that will make you sit on the edge of the seat.
It is another podcast which offers its listeners a variety of anecdotes of people that not only horrified them but also scared the hell out of them. In this podcast, you can listen to the horror stories in Hindi/Urdu, namely- Three Ghost Stories, Who Was That Woman? Most Haunted Places in Pakistan, Hotel Night Shift and Khauf.
So, fasten up your seatbelt and get started on this journey of eerie strand silence and the chilling screams that will get you goosebumps.